HIW-165 Hydraulic Ironworker Machine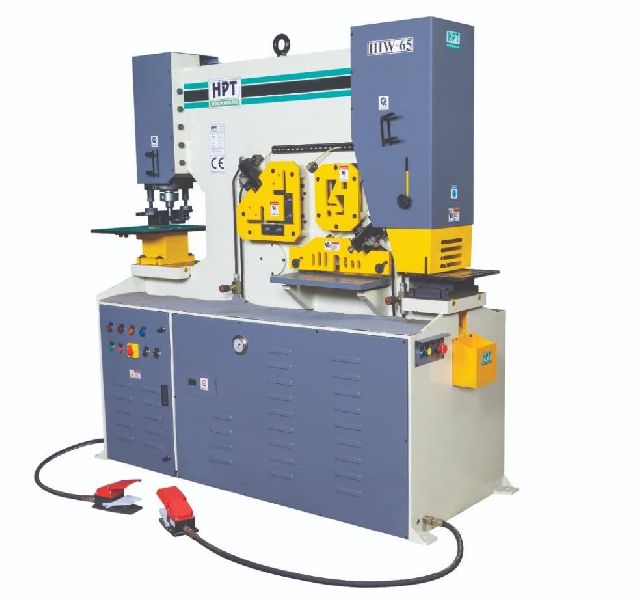 Business Type
Manufacturer, Supplier, Retailer, Wholesaler
Brand Name
HPT
Voltage
220V
Warranty
2years
Click to view more
Preferred Buyer From
| | |
| --- | --- |
| Location | All Countries Except India |
Product Details
Automatic Grade
Automatic
Salient Features
"Programmable logic controls" (PLC) is provided in our Machine of international standard make Delta, offering maximum production flexibility and full compatibility with international standards.
Both cylinder are work independent (two worker can work as same time) 
Stroke adjust with the help of proximity sensor and light indication glass for easy stroke adjustment,MONOBLOCK Structure and Precise machining of the structural membrane is done to get the required accuracies like parallelism between platen and bed and right angularity. Between bed and the moving platen. 
'Auto Lubrication System: All moving parts are lubricated from a centralized lubrication arrangement with auto timer, once you fill lubricant no worry for 2-3 months about lubrication. 
Auto hold down mechanism which will give fast production rate and it hold material with heavy force and cut material so increase Die life with better cutting quality, 
Quick Die – Punch Mechanism:- you can change punch fast and easy, 
All die are inter-changeable so one die can use 2 to 4 times, also material and process of die so that it will give longer life without blending edge, 
Universal angle cutting mechanism will give possibility to cut wide range of angle size in one die, no die change required for bigger or smaller size of angle. 
The low noise hydraulic power pack unit is designed as per international practices and assembled with internationally reputed make components. The presses are designed as per ISI guidelines, hence standard seals, bushes are used. 
Machine have Guard at all station, electric switch and rubber pad which provide safety for operator and protect machine again dust and free-falling metal while cutting, 
All station of Shearing have common Stroke Counter, it will Count Number of Cut. 
Table Design with 'T' Slot, Regular die of Power Press can be Use on Ironworker Machine.
Machine comes with all Standard accessories spanner set, warranty Card, instructional and maintenance manual.
Machine Comes with Standard Functional Accessories:
Die Set (total 14 Nos.):
A 10 Pair of Punch and Die (select Any 10 Round Punch + Die Set from Dia. 8 Mm to 20mm)
A Set of Angle Steel Cutting Blade.
A Set of Square and Round Bar (or I Section or C Section) Cutting Blade (any One of Three)
A Set of Flat-bar Shearing Blade.
A Set of Notching Blade (v- Notch or Square Notch Any One)
Die Set is Customizable as per Your Requirement, Please Freely Discuss with Our Company.
Standard Functional Accessories:
Automatic Multi Point 24v Dc Motor Operated Lubracting System
3 in 1 Die Holder (50, 73 Die Holder & Angle Punching)
Hydraulic Hold-down Mechanism (auto Hold Angle & Flat)
Back Gauge
Mode (inching, Auto)
Both Side E/stop
Two Saparat Foot Switch
Technical Specifications
Particular
HIW- 165
Punching (With Quick Change)
Punching Pressure
165 ton
Punch Capacity (Diameter x Thickness)
36 x 32 mm
50 x 23* mm
Throat Depth
- / 570 mm
Maximum Stroke length
100 mm
Cycles / Min. (20mm Stroke length)
25
Working Height Up to Die
1050 mm
Shearing Flat Shearing
Flat Bar Shear
(width x Thickness)
760 x 20 mm
400 x 30 mm
Blade Length
770 mm
Angle Flange Trim
120 mm
Working Height
950 mm
Angle shearing (With universal angle cutting mechanism)
At 90 Shearing
200 x 200 x 20 mm
At 45 Miter Shearing
80 x 80 x 10 mm
Working Height
1160 mm
Section Shearing
Round Bar Shear (Dia.)
60 mm
Square Bar Shear
60 x 60 mm
Channel Shear
250* mm
I Beam Shear
200* mm
Working Height
1375 mm
Notching
Rectangular Notcher (W x D x T)
63.5 x 90 x 16 mm
Vee-Notcher (Side x Side x T)
105 x 105 x 16* mm
Large Vee – Notcher (Side x Side x T)
145 x 145 x 13* mm
Working Height
920 mm
Single Vee Press Brake (W x T)
250 x 20* mm
Multi Vee Press Brake (W x T)
700 x 6* mm
Angle Bending
102 x 13* mm
Pipe Notching (Dia.)
114* mm
Electric Power (HP)
20 HP
Net Weight (Apr.)
6500 / 6800 kg
Machine Dimension (Apr.) (LxWxH)
2420 x 980 x 2150 mm
Based On Material Strength Of 450 N/MM2
Illustration,Dimension and Weight…. Are Not Binding As Designs Are Constantly Being Reviewed
('*' Mark) Are Optional
For Batter Quality we Use Standard worldwide part which mention below table
Type
Part Name
Make
Power Pack
Pressure Gauge
Micro
Valves & Pumps
Argo Hytos /Yuken / Rexroth / Nachi
Filter
Hydroline
Oil Pipe (Flexible)
Supersile / Gats
Motor
Siemens / ABB / Havells
Oil Cooler (Fan type Heavy Duty)
ACE
Electric Control Panel
PLC
Delta
Foot Switch
BCH / Brisk
Photo Safety Guard (optional)
Orbitten
Counter
Multi-span
MCB & Relay
Schneider / T-C
Proximity Switch
E-S
Phase Preventer
GIC (L&T)
Cylinder
Seal
KASTAS(Turkey)
Rod
Hard Chrome Platted (200 micron)
Fasteners
Mostly Are TVS High Tensile Graded
Looking for "
HIW-165 Hydraulic Ironworker Machine

" ?